Just when we thought we were done crying over holiday videos, we watched this touching gift exchange between a father and son.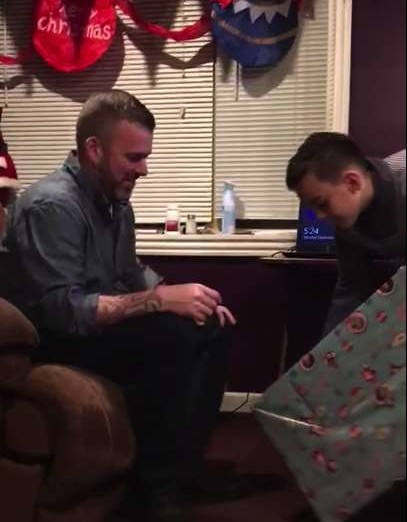 Normally, parents don't really expect to receive expensive lavish gifts from their young children--however, one lucky father was about to learn that his 11-year-old son was much more clever and generous than he ever could've imagined.
In the video, the father was surprised to receive a large wrapped gift box from his boy--and was even more shocked to discover that in an act of wit, his son actually hid the real present in multiple wrapped packages!
As the dad continued to open each smaller box, he grew more and more emotional. And, when he finally reached that last box unveiling a PS4 game console, he absolutely lost it.
In the background, you can hear a family member announce, "That's why he asked for money for his birthday, so he could buy you this gift." The dad looks at his son in utter disbelief and says, "Are you for real? You made me cry."
While the holidays by no means revolve around materialistic possessions, the thoughtfulness behind this 11-year-old's gift proves just how strong of a bond he and his father share.