As a mom, you never know when you will be forced to deal with an accident, and sometimes you're just not completely prepared. But thankfully, there are parents like Sarah in the world who just want to offer a helping hand.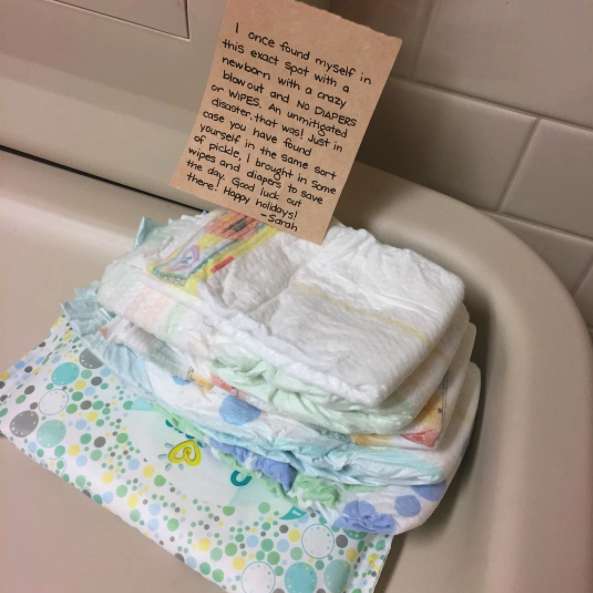 During a recent trip to HomeGoods in Solana Beach, California, Christina Causland discovered an unlikely surprise left behind by a mother in the store's restroom--a stack of clean diapers and wipes along with a note. Causland, amazed by what she found, snapped a photo of the setup and shared it on Instagram. The note reads--
I once found myself in this exact spot with a newborn with a crazy blowout and no diapers or wipes. An unmitigated disaster, that was! Just in case you have found yourself in the same sort of pickle, I brought in some wipes and diapers to save the day. Good luck out there! Happy holidays! -Sarah
While Causland isn't a mom herself and didn't have to use any of the supplies left behind, she still appreciated the thought behind Sarah's friendly gesture. "I feel like there is so much negativity in the world, that it's really important to share the positive things, no matter how big or small," Causland told The Huffington Post.
Unfortunately, Causland hasn't found a way to track the compassionate stranger down--but if she could, she would like to thank her for her generosity. "We need more people like Sarah in the world!"
Yes, we sure do.