Typically, vending machines usually contain the same goods - bottled drinks, salty snacks, sugary candy, etc. But, one company is looking to transform the purpose of these stands for the better once and for all - in a way that moms will especially appreciate.
A picture of a Milkpod vending machine that has recently gone viral on social media is blowing everyone's minds. The kiosk, which was spotted at Boston Children's Hospital, dispenses key essentials for breastfeeding moms - such as nursing bras and lactation cookies.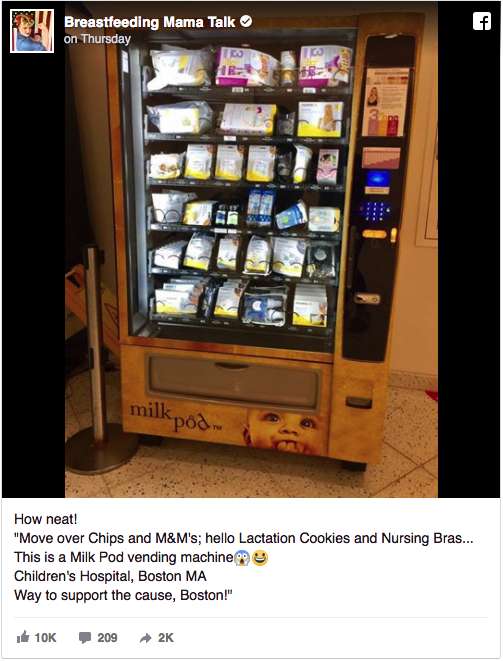 According to Milkpod's website:
Milkpod is designed to meet the needs of lactating mothers. Our retail kiosk provides convenient access to a full range of equipment needed for breastfeeding babies.
Our products are carefully selected by Lactation Specialists and Pediatricians to increase milk supply, alleviate sore and engorged nipples, and provide immediate access to critical accessories such as flanges, nursing bras and pads.
The company also explains that the kiosk is "ADA compliant" and accepts "both cash or credit."
As most parents already know, it's extremely difficult to be 100% prepared at all times - so this machine is pretty much a godsend to all breastfeeding moms.
Thanks, Milkpod!
SHARE if you think this vending machine is a life changing and brilliant invention!