On your wedding day, there's nobody you want there more than your best friend. And for bride Kelly O'Connell, that was her 15-year-old black lab mix, Charlie Bear.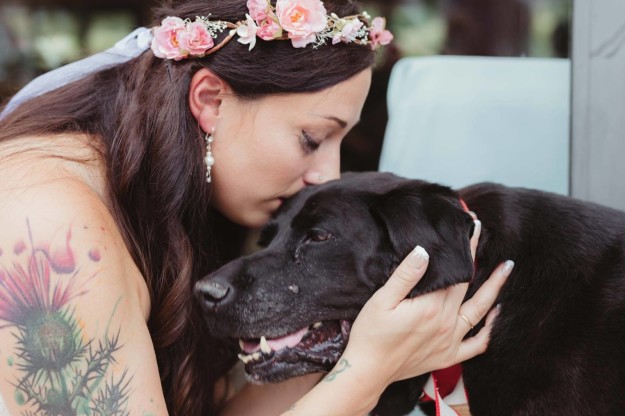 Kelly and Charlie Bear met when he was just a 12 week old puppy. When Charlie bear was found abandoned in a shopping cart outside of a grocery store, he was brought to the animal shelter where Kelly just so happened to be working while studying to become a veterinarian - and the rest is history.
But, last April while Kelly and Charlie Bear were on a walk, he suffered from a seizure and was then diagnosed with a brain tumor - and it only got worse from there. Things weren't looking too good for Charlie Bear - one week before Kelly's wedding he had five seizures. Kelly and fiancé, James Garvin could tell that he was suffering, and made arrangements for Charlie Bear to be put to sleep.
Then, something miraculous happened - the week leading up to the wedding, Charlie Bear didn't have any seizures and had no trouble walking. That's when Kelly knew that her best friend wanted to be there for her wedding.
Kelly told BuzzFeed that she "immediately brown down" when Charlie Bear walked down the aisle to her at her wedding on Sept. 1. But, when Charlie Bear was too tired to walk back, Kelly's sister and maid of honor, Katie Lloyd, picked up the 80-pound dog in her arms and carried him back. Kelly said that "she could see it in his eyes" that Charlie Bear held on in his last final days for her.
On Sept. 9, after an extraordinary 15-years together with Kelly, Charlie Bear was put to sleep - but he was not alone. He was surrounded by his family and passed peacefully in front of the fireplace.
---
How incredible is it that Charlie Bear refused to miss Kelly's wedding?
SHARE if you consider your pet to be family!