Luis Tamarez, a 4-year-old from New Jersey, was finally able to experience his very first steps after being wheelchair-bound for his entire life due to his cerebral palsy, and it was all thanks to a kind stranger!
The preschool student at North Main Street Elementary School in Pleasantville, New Jersey, took his first steps this month in front of his class with the help of an Upsee mobility device, which allows a child to experience the sensation of walking while being strapped to an adult who guides their movements.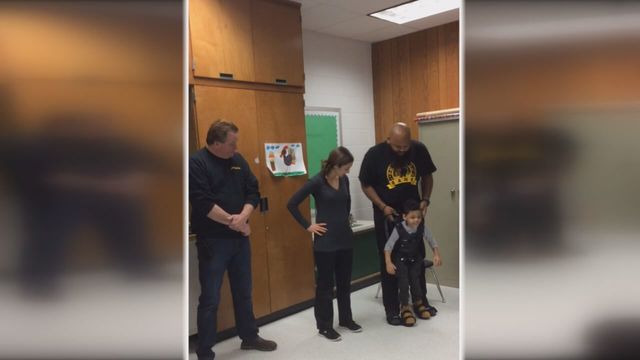 While the device is a miracle in itself, it isn't exactly cheap. The North Main Street Elementary School staff was eager to raise the $500 for Luis' Upsee with the help of fundraising but in a twist of fate, they received the money in a different and unexpected way.
When Yorel Browne--a substitute teacher at the school, was working as an Uber driver one night in December, he told a passenger about Luis and how the device would change his life. And, before he could even finish his story, the passenger, local businessman Jim Burke, offered to purchase the device for the preschooler.
"It was a no-brainer. It touched me. It didn't even take a split second. It was a very easy decision," Burke told ABC News.
And, when the device finally arrived, Browne and Burke stood in the class alongside Luis' parents and watched the boy take his first steps while strapped to his aide, Collins Days.
"He was just overjoyed and smiling. ... I remember him saying, 'I'm walking,'" Burke said. "I gave $500 and got a million dollar smile."