If you love animals, you might want to grab a box of tissues before continuing to read this story.
Defeat, heartache and hopelessness. Only a handful of words that describe the condition this starving dog was found in.  One glance at this photo will send heartache and chills up your spine, but there is a happy ending.
A dying and an emaciated dog was found on the streets of India, then nursed backed health through the kindness and love of one rescue group.  Nothing more than a pile bones, hairless, and covered mange; he was saved and brought in by Animal Aid Unlimited Shelter.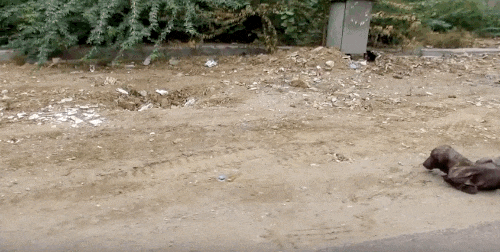 Crawling in a ball and lost of all hope, the rescued pooch could all but lay on his mat.  Showing his defeat through his exposed bones and wounded skin on in his back and chest.  "He was so exhausted and inward," the shelter said. The weary dog may have given up, but the kindness from the shelter had not.  Lacking years of affection, and he couldn't even stand human touch. That didn't stop his rescuers from feeding and healing him, not only his body, but his heart.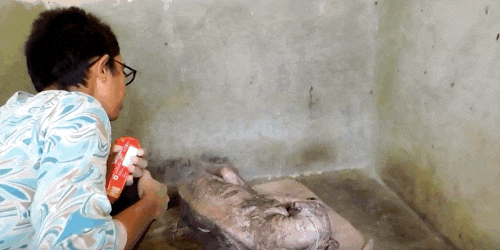 They hydrated him through IVs, and medicated his infected skin.  With each day that passed, he began to heal with skin conditioning treatments. The touch of his care takers still left the dog leery of their intentions, his eyes still unsure of the outcome.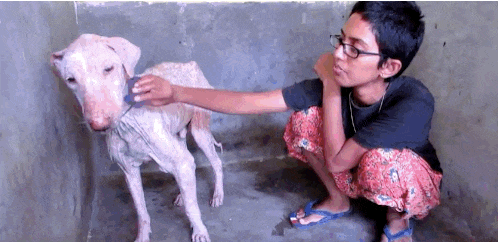 After two months, not only did his coat grow back, but his faith in humanity did as well.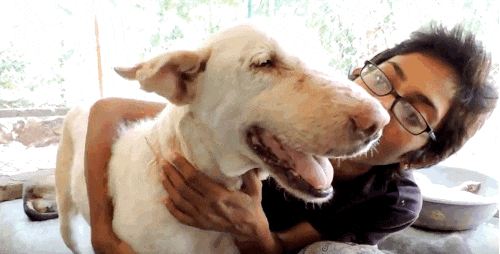 Full of white fur and hugs, death is no longer at this dogs door.  What was once filled with sadness and defeat, now shined with happiness and hope. You can support this amazing shelter, who rescues hundreds of animals by making a donation here and watch this inspirational dog's full transformation below.