They've groomed their fur and manicured their paws to purrfection in preparation for their closeups. These are the 100 sweetest, most adorable felines on the Internet. You can't help but smile when you see these fur babies. Share with friends to brighten their day!
The Shocked Restaurant Patron
The Cat-paccinos
This Inquisitive Kitten
This Mesmerized Happy Cat
The Time A Kitten Was "Accidentally" Bundled With Your Bananas
This Anything-But-Cowardly Lion
This Stunning Mother-Daughter Duo
These Sister Kitties That Put Family Furst
These Adorable Twins Helping Each Other Get Ready
The Brother-Sister Duo Who Remind Us Even Tough Love Is Hard To Resist
This Incredibly Stylish Hipster Kitty
These Sweet Snuggle Buddies
The Couple Who Totally Gets Fur Better, Or Fur Worse
These Party Animals!
The Teeniest Snuggle Buddy You Ever Saw
Boys Being Boys
The Pair That Purfers The Finer Things
The Couple That Tends To Let Their Emotions Get The Better Of Them
The Showoffs
The Copilots
The Pair That's Not Afraid Of A Little PDA
The One That's On A Roll
The Guy Enjoying His Canopy For One
The One You Interrupted During Something Very Important
This Dappur Gentleman
OHMYGOODNESS CUTENESS
The Pair That Promises They're Up To No Good
This Trio Of Hugs
The Big Lebowski Of Felines
The Friends That Clutch To Each Other For Support
The Cutest View Of Pink Paws
This Guy Who Knows His Impurfections Are What Make Him Unique
The Kitty Princess
The Gangster Cat
The One Rolling In Dough
This Kitten Just Begging For A Kiss
The One Working On His Mustache
The One With The Cute Boyfriend
Three Friends Up To No Good
The Model Preparing For A Close-Up
Best Of Friends Snuggling It Out
A Tribe Of Cuteness Waiting For Dinner
Two Friends Enjoying The Warmth Of A Snuggly Blanket
These Sophisticated Kitties
The Guy Who Feels Your Pain On The Morning Commute
The One That's Always Ready To Listen
The Practical Joker
The Cuteness Of This Photobombing Friend
The One That Makes Your Yoga Skills Look Amateurish
The Cat With The Coolest Dance Moves
The Guy That Defies Gravity
... And The One That May Be Plotting Against You
Your Harshest Critic
And Worst Handyman
He's destroyed more screen doors than you can count.
The Master Of Timing
The Bride That's A Little Nervous About Her Big Day
And The One That's Just Plain Confused
The Guy That Plays Along With Your Cheesy Jokes
The Selfie Artist
The One Who's Seen Too Many Cooking Shows
The Drama Queen
The Hypochondriac
The Pessimist
And The Guy That's Always Having A Good Time
Your Best Friend On A Rough Day
And Partner In Crime
The Detective Who Wants To Know What You've Been Up To
But Dare Not Divulge The Nature Of His Secret Plans
The Angelic Feline That Loves You
And Your Most Trustworthy Watch-cat
The Patient One That Puts You First
And Family Man Who Takes A Joke
The Judgemental Cat Who Knows Your Hiding Something
And Might Have A Secret Of His Own
The Confused Kitten You Watch Over
And The Confident Dancer You Inspire
The One That Always Knows How To Find You
And Is Maybe Not Very Good At Hiding
The Reason It's Hard To Leave Bed In The Morning
And That You Look Forward To Taking Out The Trash
The Kitty That Refuses To Grow Up
And Share Her Person With You
The Ones That Bring Home The Tuna
And Are Psyched By The Little Things In Life
The Little Guys Who Won't Back Down
The Ones Who Appreciate A Good Night's Sleep
They'd Respect A Little Privacy
They Hate The Cold As Much As You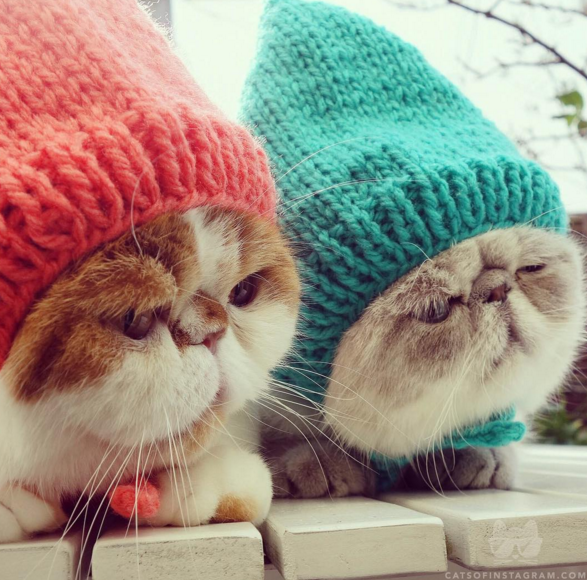 And Are Occasionally Just As Childish
They See The Value In A Really Large Piece Of Cake
And Taking It Easy
They Know To Chronicle Life's Best Memories
And Share Your Love For The Firsts--Like The First Snow Of The Season
They Enjoy The Warmth Of Just-Out-Of-The-Dryer Blankets
And Know It's Important To Pay Their Dues
They're Irresistibly Fashionable
Addicted To Coffee
And All About Breaking Barriers
They're First Friends You Meet In Life
And The Only Ones You Ever Need